By Emily Gober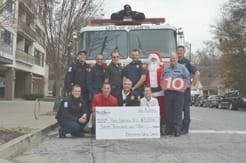 Santa came early this year to two local fire stations when HomeGrown Restaurant Concepts presented both Fire Station 19 in Virginia Highland and Fire Station 10 in Grant Park with two checks totaling $7,600 to help restore the fire houses. HomeGrown Restaurant Concepts' annual Breakfast With Santa fundraiser sold out again at Osteria 832 on Saturday, December 1, and Doc Chey's on Saturday, December 8. The proceeds from these events helped bring the 10-year fundraising total to $56,000.
The annual event featured a sit-down breakfast including pancakes, eggs, and chicken sausage and a visit from the big man himself. Santa Claus arrived on top of a fire truck to greet eager children with their Christmas wish lists in hand. Tickets were $20 per person, and all proceeds from the ticket sales were donated directly to the fire stations.
For their 10 years of fundraising efforts through the Breakfast With Santa events, HomeGrown Restaurant Concepts was a state winner of the National Restaurant Association's Restaurant Neighbor Award for the fourth time in 2012. HomeGrown Restaurant Concepts and owner Rich Chey were also lauded with the Georgia Restaurant Association's Distinguished Service Award at the 2012 GRACE Awards last November.
Founded in 2007, HomeGrown Restaurant Concepts represents some of Atlanta's favorite casual cuisine. Comprised of Doc Chey's Noodle House and Osteria 832 Pizza & Pasta, HomeGrown Restaurant Concepts serve fresh, high-quality ethnic cuisine in comfortable neighborhood environments. HomeGrown Restaurant Concepts gives back to the local community through its charity fund, HomeGrown Charities, which has raised more than $135,000 for nonprofits since its inception. For more information, visit
www.homegrownrestaurants.com
.