By Angie Wynne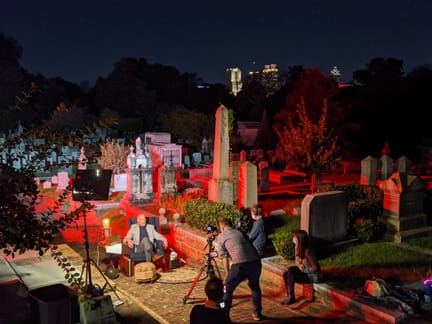 For the past fourteen Octobers, Historic Oakland Foundation has welcomed thousands of visitors to the grounds of Oakland Cemetery for its popular Capturing the Spirit of Oakland tours. But this year the foundation had to cancel its biggest fundraiser of the year due to the pandemic.
Instead, it's bringing the tours to visitors' homes with a 2020 Capturing the Spirit of Oakland film featuring sets that are bigger and better than ever. The film contains all of the favorite elements that make the tour one of the most highly anticipated annual events in Atlanta. It features the fascinating stories of several Oakland Cemetery "residents," including one of Atlanta's first prison matrons, a visually-impaired Hollywood radio star who became an advocate for the blind, and an expert witness in one of Atlanta's most shocking murder trials.
Get the Capturing the Spirit of Oakland film today for $15 at www.oaklandcemetery.com/csofilm. All proceeds benefit Historic Oakland Foundation's mission to preserve, restore, enhance, and share historic Oakland Cemetery.