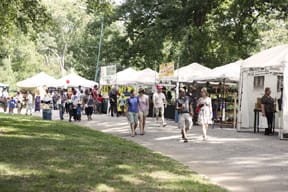 By Carrie Whitney
For the ninth year, Atlanta's historic neighborhood which houses the city's oldest public park, will welcome thousands of visitors to the Grant Park Summer Shade Festival on Saturday, August 27 and Sunday, August 28. With two large artist markets, two live music stages, plenty to eat and drink, and special areas for kids, what better way could there be to say good-bye to summer? Even better, each year, the Summer Shade Festival raises money to help the Grant Park Conservancy take care of this 126-year-old public park.
The fun begins on Saturday morning with the Adams Realtors 5K Run for the Park. Pre-registration is available at www.adamsrealtors.com. Onsite registration starts at 7:00am. Summer Shade officially opens at 10am on Saturday and 11:00am on Sunday. Throughout both days, attendees will be able to enjoy hundreds of artists working in all kinds of media, and hopefully find a few special pieces to take home.
Two stages keep the tunes flying all day long with everything from acoustic sounds like Atlanta Sacred Harp Singers to Whiskey Pelt and the Front Porch Session Players and bands like Grinder Nova, Men of Soul, and Goldest.
There are plenty of activities for the little ones too, which can be found in the children's area. Whether it's making crafts, enjoying a storyteller, or getting a little crazy on the spider jump, kids might have even more fun at the Summer Shade Festival than their parents.
On Sunday, the weekly Grant Park Farmers Market will be in full swing, as usual, from 9:30am to 1:30pm. Both days, lots of food and beverage vendors will also be onsite to tame the appetite.
Summer Shade attendees looking for something more upscale can purchase tickets ($35 in advance or $45 at the door) to Corks & Forks: A Fine Food & Wine Event presented by Lincoln, which takes place each day from 1:00pm to 5:00pm in the pavilions.
Whether you come for the art, the music, the food, or just one more chance to spend some time outdoors this summer, the Grant Park Summer Shade Festival is sure to have enough to entertain all weekend. Entrance to Summer Shade is free, and all proceeds support the work of the Grant Park Conservancy, so why not head down both days? See you there!