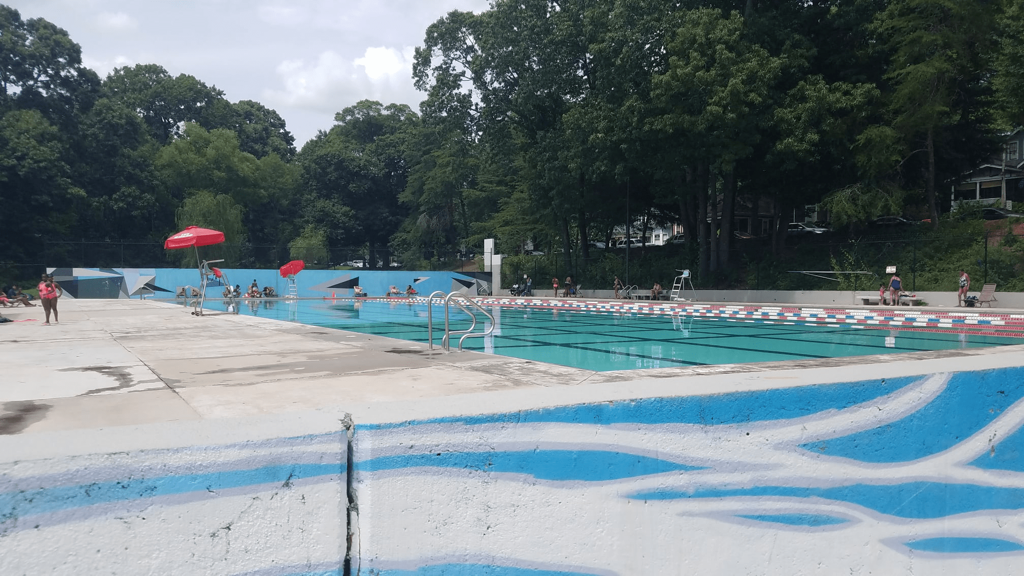 By The Friends of Grant Park Pool
Splash into your pool! The Grant Park pool is one of 12 public outdoor pools provided by the City of Atlanta Parks and Recreation. As of late April, the city plans for the pool to be open five days a week (open Wednesday through Sunday; closed Mondays and Tuesdays) starting Memorial Day weekend through the beginning of August. The pool will continue to be open on weekends only during August and through Labor Day weekend. Operating hours will be from 12:30pm to 7:00pm on all open days. Admission will be free.
Up-to-date information about operating schedules, entry fees (if any), and other pool updates are published by the city at www.atlantaga.gov/government/departments/parks-recreation/office-of-recreation/aquatics. The Grant Park pool is located at 625 Park Avenue on the east edge of Grant Park near Berne Street and Boulevard.
New this year, the city is hiring, training, and managing the lifeguard staff versus outsourcing lifeguard staffing to an external contractor as they have done in previous years. Lifeguards at Grant Park will be managed by a full-time City of Atlanta Aquatics staff member transferred for the summer from one of the city's indoor natatorium facilities. The city's Aquatics Director Marcus Byams reiterated these plans at the Grant Park Neighborhood Association meeting in March.
Need to share your feedback with the city? Park and pool patrons are encouraged to use the free "HAPPiFEET-Atlanta Parks" app to communicate directly with Atlanta Parks and Recreation, year-round.
Finally, the Friends of Grant Park Pool is back in operation this year. The citizen group coordinates with the city and with the Grant Park Conservancy to advocate for a public pool that provides reliable unrestricted access to all city of Atlanta residents. Stay in touch with the Friends by subscribing to our email list at www.friendsofgrantparkpool.org or visit our Facebook page at www.facebook.com/grantparkpool.
We're excited about the Summer 2023 season. See you at the pool!