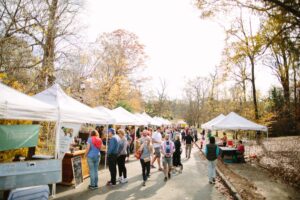 By Bang Tran
The Grant Park Farmers Market is celebrating opening day on Sunday, April 2 at 600 Cherokee Avenue. The 2017 market season will be ushered in with activities for kids, local tastes by Chef David Sweeney, and of course, all the locally grown and made vegetables, meats, eggs, breads, and more that Grant Park has grown to love.
For opening day, look for the best tastes the spring season: carrots, turnips, kale, lettuce, and more! Visit us for the rest of April for everyone's favorite time of spring: strawberry season.
Please note that the Grant Park Farmers Market has changed opening and closing times to 9:00am to 1:00pm.
Grant Park Farmers Market is managed by Community Farmers Markets, a 501(c)(3) nonprofit organization that is committed to increasing food access through education, farmers markets, and financial incentives.