By Shannon McCaffrey
With generous grants from Park Pride, Bank of America, Georgia-Pacific, and others, the Grant Park Conservancy will break ground this July on planned renovations to the northern entry of Grant Park.
The Grant Park Conservancy's plans for the space include a pedestrian-friendly plaza – with picnic tables, bike racks and a nature pathway – at the intersection of Sydney St. and Loomis Ave. The project is expected to cost $312,000 and the Conservancy has almost completed fundraising with $10,000 remaining to raise.
Park Pride awarded $100,0000 to the initiative. Founded in 1989, Park Pride works with communities all over Atlanta and Dekalb county to improve their parks. The Grantmaking Program was established with support from the Robert W. Woodruff Foundation and The Home Depot Foundation, with additional funders including Georgia Power, the City of Atlanta, and others joining more recently.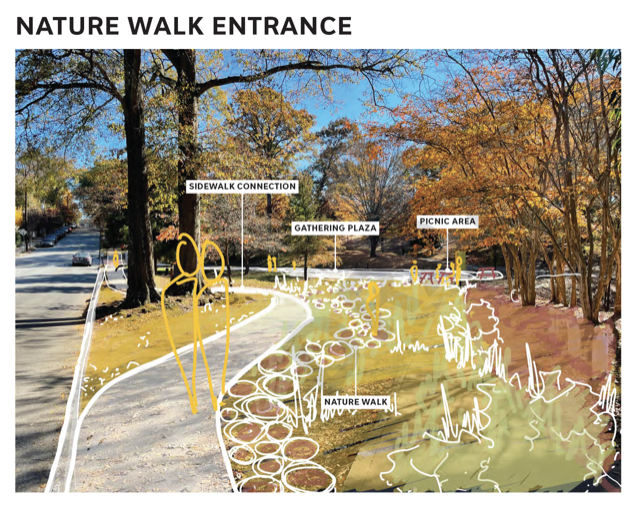 "We are so excited to see the plans for Loomis Plaza come together and provide additional opportunities for park visitors to picnic and enjoy the north end of the park. Grant Park Conservancy continues to excel at making the park inclusive and accessible for as many residents as possible," said Kayla Altland, Director of Grantmaking and Fiscal Sponsorship.
Bank of America, whose grantmaking program provides generous support for environmental efforts including the restoration of parks, has contributed $35,000. Georgia-Pacific, whose important stewardship priorities include contributing to the success of communities through support for environmental projects, donated $25,000.
The Conservancy has also received funding from The Atlanta Foundation, the Grant Park Neighborhood Association, Walmart, surrounding neighbors, and through fundraising events.
Grant Park Conservancy Executive Director Michelle Blackmon said the entryway to the park is currently marred by crumbling sidewalks, swaths of pavement, and eroded landscape.
"Access to the park is critical to our mission and this project will transform an unattractive and unwelcoming entrance into an inviting and special gathering space," Blackmon said. "Despite its current state, this area is very popular for people to come together with family and friends for picnics and celebrations. We want our park users to have the best spaces possible for these activities and are so appreciative of the support from Park Pride, Bank of America, Georgia-Pacific and so many others to make this project possible."
The Loomis Plaza Initiative is expected to be completed by the end of 2023. To donate please visit www.gpconservancy.org/get-involved/support and specify that you would like your contribution to go to Loomis Plaza.
The Grant Park Conservancy is committed to the restoration, beautification, and maintenance of historic Grant Park. In partnership with the City of Atlanta's Department of Parks & Recreation, the Conservancy works to focus new resources toward restoration and maintenance efforts. For additional information, visit www.gpconservancy.org or contact Michelle Blackmon at mblackmon@gpconservancy.org.