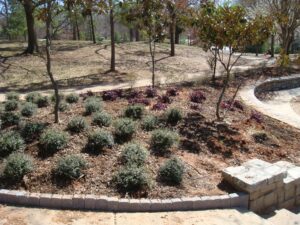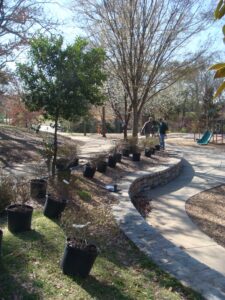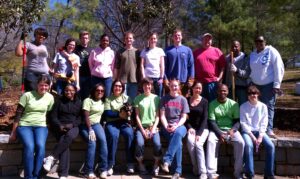 By Alisa Chambers
Here at the Grant Park Conservancy (GPC), spring is our favorite time of year! The weather is getting warmer. The days are getting longer, and we're ready to head to Grant Park. What better way to spruce it up for spring than with a bunch of new plantings? If you've been to or walked by the children's playground recently, you most likely noticed our new additions.
On Saturday, March 12, a group of volunteers from Teamworks met in the park, rolled up their sleeves, and began digging. We had over 140 new plants to install, and thanks to their tireless energy, we were able to get everything in the ground. Then, Mother Nature gave us a hand with a nice rainstorm to set the plants up right.
The new plantings include Dwarf Yaupon Holly, Don's Dwarf Wax Myrtle, Purple Diamond Loro, and Rubekia (also known as Black Eyed Susan). Upcoming volunteer activities will include watering and mulching the beds to help maintain our new plants. We hope you agree that the plantings enhance the beds nicely and are a good way to welcome in spring!
The Grant Park Conservancy invites you to celebrate and explore our beautiful park!
Friday, April 22 from 6:00-8:00pm – Membership Mixer. Enjoy TGIF under the park's leafy canopy. Refreshments will be provided. Members and non-members welcome. Meet at the Cyclorama turnaround. RSVP to info@gpconservancy.org.
Sunday, May 1 at 10:00am – Celebrate May Day with a 90-minute walking tour of the park. Learn about the park's fascinating history and the role of the GPC in its improvement and preservation. Free for members – $5 for nonmembers. Meet at the south end of the Boulevard parking lot.
Tuesday, May 3 from 6:00-8:00pm – The GPC presents a screening of The Olmsted Legacy: America's Urban Parks at the Zoo's ARC building. Olmsted's influence on Grant Park Q&A session to follow. Free for members. Watch for more details!
Thursday, May 19 from 6:00-8:00pm – Happy Birthday, Grant Park! In honor of the park's 128th birthday, the GPC invites its members and donors to the pavilions to share some food and refreshments. A tour of the newly-renovated recreation center will follow. Join now to receive an invitation to this event!
Grant Park needs your help! Become a member now and help the GPC restore and improve this jewel at the heart of our neighborhood. Among GPC's recent successes: new plantings by the children's playground, installed with support from Park Pride and the Grant Park Parent Network, and the kick-off of our Green Space Reclamation Project- converting the abandoned dive well by the swimming pool back to green space. Visit www.gpconservancy.org, or call 404-521-0938 to become a member or to learn more about the GPC and all upcoming events. Also, "like" us on Facebook for park updates and volunteer opportunity announcements.