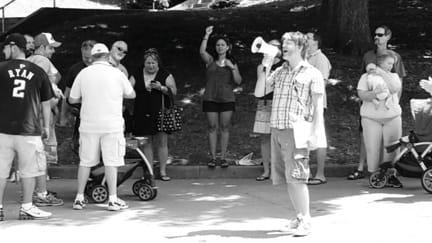 Photo by Lauren Rocereta
The Grant Park Neighborhood Association Historic Committee had dozens come out to stand in support at the Cyclorama on Saturday, Aug. 27 and hundreds more stopped by the GPNA booth at Summer Shade Fest to sign a petition to keep the Cyclorama "at home" in Grant Park. The City of Atlanta has formed a task force to consider
relocating the painting and museum. It's been part of the fabric of Grant Park for over 100 years and will cost a bundle to move. More information about this effort is available at www.gpna.org or by calling 404-788-5659.