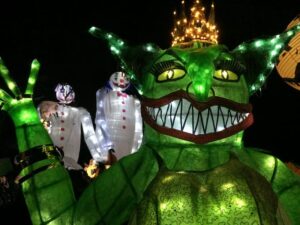 By Bex Godsey
The Grant Park Conservancy (GPC) welcomes everyone to participate in the 8th Annual GPC Halloween Lantern Parade. Come play in the dark (in the park). This event is free to the public. Last year, there were close to 5,000 people marching through Grant Park. Don't miss out on this year's fun on Friday, October 26.
Bring your family, bring your friends, decorate your wagon, wear your costumes, and don't forget your lanterns. You are welcome to view the parade, too, as it's a great spectator event with a lot of wonderful lanterns. Great places to watch include the hill at crossroads, Constitution Springs, and the greenspace across from Zoo Atlanta's welcome plaza. The parade route loops around so check out the route map at GPConservancy.org for other great spectator spots.
This year's parade will see the return of some old favorites – Chantelle Rytter and her Krewe of Grateful Gluttons! We're getting the party started early with a family friendly pre-parade gathering at the Milledge Fountain at 6:00pm. DJ Tabone, food trucks and drink vendors will set the stage for a magical evening winding through Grant Park. Step off is at 8:00pm.
Need a lantern? The Grant Park Conservancy sells kits to raise funds for the park. All materials are provided, including a tap light, batteries, a stick for carrying your lantern, and detailed instructions. Get those creative juices flowing and decorate the way you want! They will be available for purchase during operating hours at Adams Realtors, Dakota Blue and at the Grant Park Farmers Market on October 7 and 21.
The 2018 GPC Halloween Lantern Parade is presented by Adams Realtors and sponsored by: The Beacon Atlanta, The City of Atlanta Office of Cultural Affairs and Phoenix Landscape Group.
If your business is interested in becoming a sponsor, please contact Mandy Mooney at amooney@mooneydesignstudio.com.