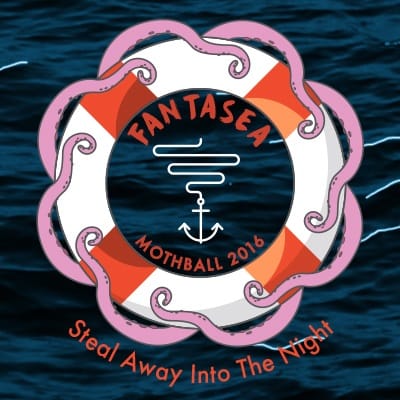 By Christy Simo and Lauren Rocereta
The Mothball is Grant Park's highly anticipated annual costume party fundraiser. This year's theme is FANTASEA, so dress up in your open-water themed best and get your happy on with your neighbors and friends on Saturday, November 12 from 8:00pm to 1:00am.
"This year, being my last year at the helm, we've decided to kick it up a notch by bringing in an incredibly fun band and making the Mothball theme more loosely based which means we'll see some really creative costumes." says Rob Bernier, Mothball committee chair. "You will not want to miss Mothball this year, so come out and get "naughty-cal!"
During FANTASEA, you will "steal away into the night" with the smooth sounds of the late '70s and early '80s provided by Yacht Rock Schooner. The eight-man Schooner band is comprised of some of Atlanta's top players with a dual keyboard setup, multiple top-notch vocalists and a sax man.
We'll be dancing the night away with the return of the talented DJ Fernando Fernandez, a Mothball veteran and local favorite who will keep partygoers dancing. Local Atlanta-based actor and Grant Park neighbor Johnny Land will be your mischievous Cruise Director for the evening. With Yacht Rock Schooner, Johnny Land, and Fernando Fernandez on deck, this party promises to be one to remember.
There will be a cash bar accepting cash, debit, and credit, so you're free to open a tab and avoid the hassle of a transaction each time you imbibe. Finger foods will be provided by a yet-to-be-decided local caterer. Participate in the annual costume contest, table-decorating contest, and dance-off to win cash prizes and gift certificates from local businesses. If you really make an impression, you could be crowned Miss Mothball 2016.
The Mothball costume party is an annual tradition that spans almost four decades. In the 1980s, it started out as a potluck dinner to thank everyone who volunteered for the Tour of Homes and traditionally was held the same weekend as the tour. As time passed, the party grew so much that it turned into its own fundraising event.
Past themes have included everything from Moulin Rouge to pirates to '70s sitcoms, a hootenanny, a speakeasy, and more. More than 400 people attended last year's Studio 54 Mothball dressed up in all kinds of groovy costumes. So be sure to come "decked" out and ready to party this year during FANTASEA.
Proceeds from Mothball go to the Grant Park Neighborhood Association (GPNA), which in turn uses the funds for neighborhood related purposes like supporting the Grant Park Security Patrol as well as fulfilling many grants. This year, GPNA members supported a $5,000 donation to help with renovations to Grant-Ormond Park as well as a $5,000 donation for efforts to renovate Milledge Fountain. Other grants include help to renovate Erskine Fountain, room sponsorship for the Nicholas House, multiple local school backpack fundraising efforts, and much more. In December, GPNA will give the annual $500 donation to each public and charter school within Grant Park. The Mothball is a fun-raising way to give back, party with neighbors, and make new friends in the process.
Special thanks to GPNA's 2016 annual sponsors whose generosity will contribute to an amazing Mothball: Pellerin Development, Six Feet Under, Fuqua Development, Atlantic Realty, Urban Realty, Kroger, Susan Powell of Good Living Realty, Rob Smith and Associates, Round Here Renovations, and Justin Landis Group. Big thanks to this year's Mothball sponsors: Crossfit Downtown Atlanta, Eventide, Dakota Blue, Dance 411, and Adams Realtors.
Sponsorship opportunities are still available. If you and your business are interested in supporting the Grant Park Mothball, contact Rob Bernier at economicdevelopment@gpna.org for details.
Tickets are $30 in advance and $40 at the door, and a limited number of tables are available at www.gpna.org/mothball. This year's Mothball will be held at The Beacon at 1039 Grant Street. Bring your friends, set sail, and have fun supporting the Grant Park community.