By Katherine Dillinger and Michelle Rice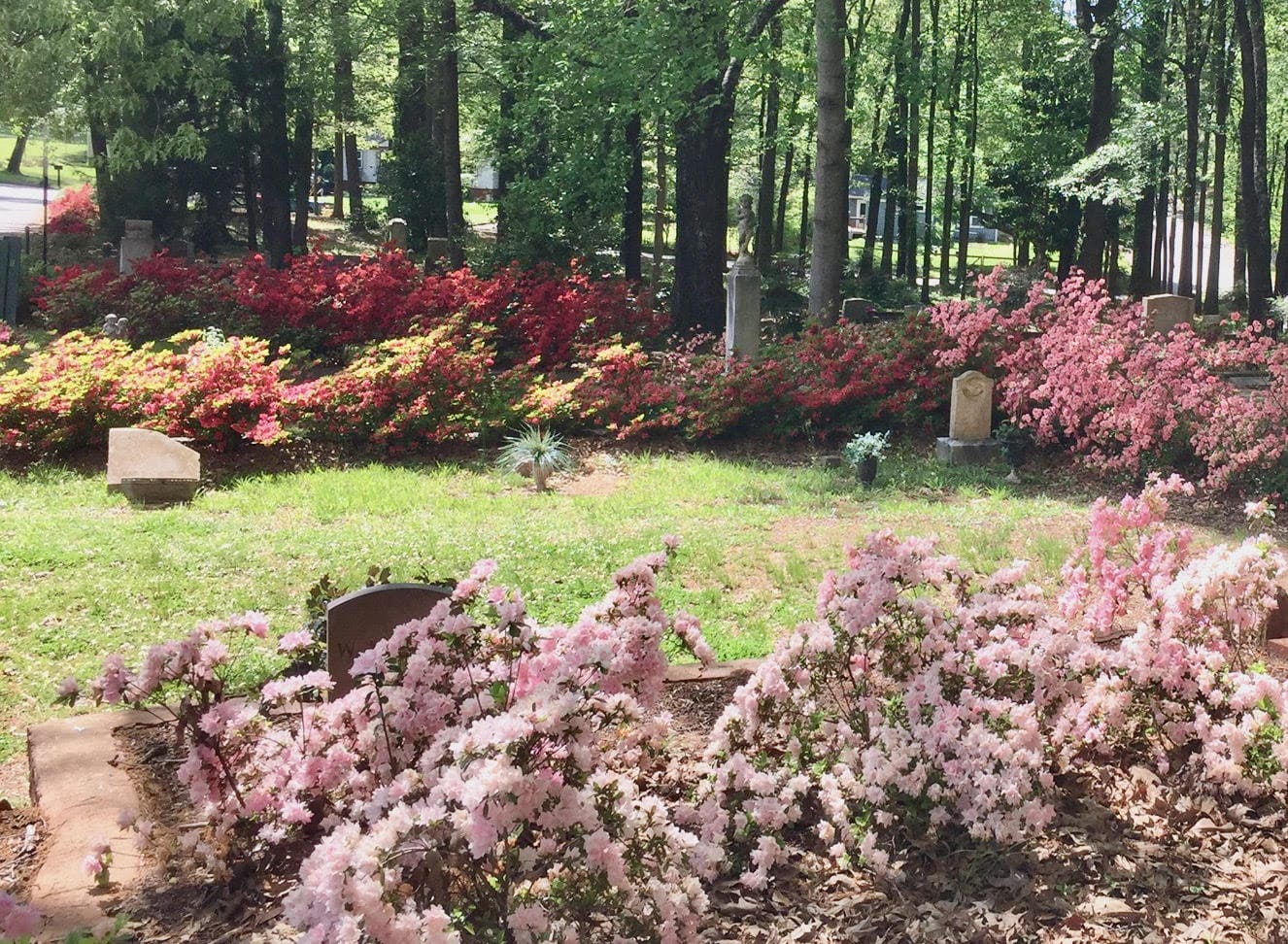 The eastern end of East Atlanta Village (EAV) is home to one of its most unusual treasures: Sylvester Cemetery, final resting place of many veterans, doctors, ministers, everyday Atlantans, as well as one country music legend. But lots of folks don't even know it's there, much less that a dedicated group of supporters works hard to maintain this crucial piece of neighborhood heritage. The East Atlanta Strut, dedicated to promoting and preserving its neighborhood, has announced a new springtime event to benefit Sylvester Cemetery: The Pushing Up Daisies Garden Tour.
On Saturday, April 9, visitors can check out the fruits of their neighbors' hard work in yards and gardens, as well as the bountiful blooms on the cemetery's famed azaleas.
Garden tour visitors will be inspired by a carefully curated selection of neighborhood gardens, and then stroll among the tombstones as they sip a cold beer from Creature Comforts Brewing Co., or a specialty cocktail crafted with Four Roses Bourbon. Food will be offered by Waffle Bar, Pollo Supremo/Taco Supremo, Freestone Market, and King of Pops. Live music will lift the spirits with Heather Luttrell and the Possumden at 3:00pm, Challenger Deep at 4:00pm and the Young Antiques at 5:00pm
The neighborhood gardens will compete in three categories: Natural, Traditional, and EAV Eclectic and be open to tour participants from 11:00am until 3:00pm. At Sylvester, guided tours will be offered at 12:00pm, 1:00pm, and 2:00pm, with self-guided tours from 11:00am until 6:00pm. The cemetery is the resting place of many of East Atlanta's early residents, veterans from the Civil War through the war in Vietnam. It is also the gravesite of Fiddlin' John Carson, known to many as the father of country music. There's even a magnolia that's been designated a champion tree by Trees Atlanta.
Sylvester Cemetery, at 2073 Braeburn Circle, began around 1838 as a family plot on land owned by the Terry family. After being neglected for generations, and being almost totally abandoned in the 1970's, the cemetery has been brought back to life by the Historic Sylvester Cemetery Foundation. But there's still work to do. It's time for this hidden gem to be discovered, and for the foundation's dedicated volunteers to get more assistance. The East Atlanta Strut is happy to help.
The southeast corner of the cemetery is the perfect spot for great music. Bring lawn chairs or a blanket for the late-afternoon celebration with three great bands. Atlanta cult trio Young Antiques has been described by American Songwriter as a "Deep South cross between Tom Petty and Elvis Costello." The band has several ties to East Atlanta, as does Challenger Deep, which also claims to be the tallest band in Atlanta. They're known for aggressive instrumental dance rock. Heather Luttrell and the Possumden blend blues and Americana with four-part harmonies, acoustic guitar, resonator, bass, banjo, drums, and kazoo.
To apply for your East Atlanta garden to be on the tour, to buy tickets, or to order a picnic plate in advance, go to www.eastatlantastrut.com/gardentour. You can also contact info@eastatlantastrut.com for information on how to volunteer or to nominate an East Atlanta neighbor's garden.