By Erin Guerrieri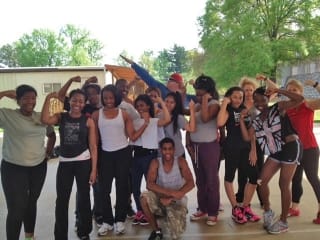 The FitWit Foundation
kicked off its eleventh FitTeens program at Maynard Jackson High School on April 15 and the energy is contagious. Twenty students and staff are taking part in this free program that provides health and character education to the school's students and staff.
Heading the FitTeens charge is The FitWit Foundation's new program director, Megan Gilroy. Coming from Denver, Colorado, Megan brings more than five years of experience in education, personal training and holistic health coaching to The FitWit Foundation team. Her passion for providing opportunities for children to lead healthy lifestyles is a perfect match for The Foundation, and the energy she has shown in kicking off this new FitTeens program is evidence that's she's here to change lives. "We couldn't be more excited to have Megan on the team," says executive director, Ben Thoele. "She is an excellent example to the kids we work with and we look forward to watching these kids learn how to believe in themselves."
The FitWit Foundation recently finished its most successful program yet at Decatur High School during which six of the teens conquered fears and reached goals by completing their first 5K, and hopes are high that Jackson teens will soon experience the same success.
The FitTeens program will run through May 17 at Maynard Jackson and kicks off a fall program on August 26 when school resumes after summer break. FitTeens is always looking for community partners to help expose the participants to new experiences. Organizations interested in sharing an hour of time to instruct (martial arts, dance, boxing, nutrition, etc.) should contact
megan@fitwit.com
.
The FitWit Foundation gratefully accepts donations of new sports bras, socks, athletic shoes and athletic clothes for its teen participants. Monetary donations can also be given at
www.thefitwitfoundation.org
. Please contact
megan@fitwit.com
to arrange a donation.
The FitWit Foundation sees a world where all young people belong to a community committed to fitness that empowers them to believe in themselves and strive for success. For more information and/or to make a donation, please contact
erin@fitwit.com
.