By Ashley Hong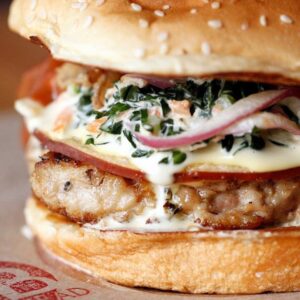 Atlanta-based burger joint Farm Burger is opening its fifth Georgia location in Grant Park by early March.
Located just steps from the Historic Oakland Cemetery and nearby the Grant Park Farmers Market and Eventide Brewery, the forthcoming fast-casual burger restaurant joins The George multi-use residential community at 275 Memorial Drive, Suite 2B and will be open daily for lunch and dinner from 11:30am to 10:00pm.
Farm Burger's chef-driven menu features an assortment of award-winning burgers made from 100% grassfed, grass-finished beef that comes from Georgia farms, dry-aged, ground fresh, and cooked to order. Other dish options include antibiotic-free chicken, veggie and Anderson Farms pasture-raised pork burgers, as well as seasonal salads, hand-cut fries and diverse daily specials. From patty to topping, Farm Burger's menu celebrates its partnerships with their local farmers like Crystal Organics (Newborn, GA), Decimal Place Goat Cheese (Conley, GA), and My Quality Mushrooms (Snellville, GA). The beverage program features fair-trade sodas from Maine Root, hand-spun milkshakes, floats, and a curated list of Atlanta's favorite craft beers.
Since its opening in 2010, Farm Burger has been committed to providing Atlantans with the highest quality produce and pasture-raised meats at accessible prices in a family-friendly environment – a philosophy that co-founder George Frangos says he's looking forward to sharing with the Grant Park community.
"We couldn't be more excited to plant roots in Grant Park," Frangos said. "Farm Burger is strongly tied to the neighborhood, as we've built relationships with neighbors at the Grant Park Farmers Market over the last four years. Our team is honored to build a permanent home within this tight-knit community."
Farm Burger also employs green and sustainable design practices like handcrafted wooden furniture and reclaimed metal and wood finishes to create a relaxing and simple modern, rustic aesthetic. The Grant Park location will boast a long dining counter and back patio with an outdoor lounge area. Throughout the space lives a feeling of hospitality and comfort where good food and merriment can reign supreme in a humble environment. Loosen your ties; share some laughs; be happy and eat grassfed.
Ample and free parking for guests is also available in The George's parking garage.
Grant Park's opening marks Farm Burger's fifth Atlanta location, with other locations in Decatur, Buckhead, Dunwoody, and the new Mercedes Benz stadium.