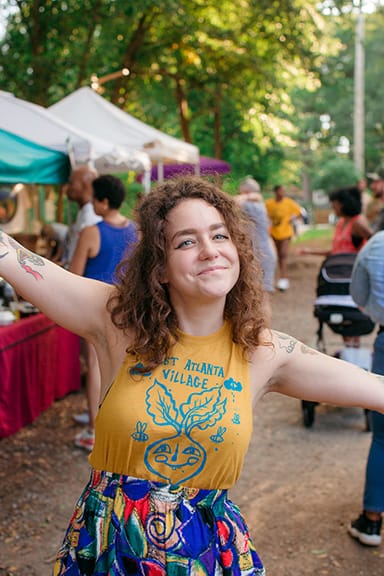 By Katie Kriner
East Atlanta Village (EAV) Farmers Market is a-springin' back up on Thursday, March 30, from 4:00pm-8:00pm. It will continue every Thursday 'til mid-November. All your favorite farmers and vendors are back, as well some new faces, live music, market chef with free samples, good vibes, all the works.
Every Thursday, the market will have three or four farmers selling fruit, veggies, herbs, eggs, seedlings, fresh bread and other baked goodies, fresh juices, and tea blends, three to six hot food or dinner options, crafts, candles, self-care, and more. The list keeps growing. If you want to stay EXTRA tuned-in on the 2023 list of EAVFM vendors and events, sign up for the weekly email newsletter at CFMATL.org.
This is just the beginning of a long list of plans for this year's spring market. On April 13, Bring a Can, Take a Can! Will be at the EAV Farmers Market, sponsored by Roots Real Estate and East Atlanta Kids Club. Bring a canned food item or shelf-stable boxed item, and receive a can of beer, wine, or a can of whatever you'd like from the market's assortment of beverages.
On April 20, the Farmer's Market will celebrate their third annual EAVrth Day Plant Sale in partnership with Love is Love Farm. There will be a huge variety of organic and heirloom varieties. Seedlings will be available for purchase, and those using EBT/SNAP get 50% off. Experienced farmers will be there to help guide you through selection, planting, and care. Go to Loveislovefarm.com for their Spring Plant List. Pre-order/pick-up is available.
June 1 the third annual Serviceberry Fest will return. More details to come.
The Winter Mini Market continues until the Spring Market resumes later this month, so pop in any Thursday afternoon and see what's happening at the East Atlanta Village Farmer's Market, 572 Stokeswood Avenue between 4:00pm and 7:00pm.