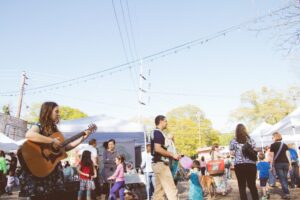 By Carlen Hultgren
Join your friends and neighbors on April 13, for this year's opening day of the East Atlanta Village Farmers Market (EAVFM). To kick off the season, Council Member Natalyn Archibong will offer an opening proclamation, speaking to the EAVFM being a cornerstone of increasing food access through its SNAP program. This has made locally grown, and made, food more accessible to all. The EAVFM has been a leader in food access since its inception; the EAV market was the first market in Georgia to accept SNAP assistance and the first market to provide Double SNAP benefits to shoppers, putting more money into the hands of customers and local farmers.
There will be food, drinks, music, and of course, all the best locally grown produce and locally made food products that you have come to expect from the family friendly, Farmers Market in East Atlanta. Bring the kids, who will have an opportunity to plant new seeds and seedlings at the EAV Learning Garden. Later in the season, April 20th, the Angus Brown Memorial celebration is scheduled with more details to follow next month.
Voted the Reader's Pick for the Best Outdoor Farmers Market in Atlanta's Creative Loafing Magazine five years in a row, the East Atlanta Village Farmers Market is one of oldest Atlanta farmers markets, providing local and seasonal produce since 2006. Opening day of EAVFM has always been a special day for the EAV neighborhood where the community can gather to celebrate local food. Come join the yearly celebration from 4:00pm to 8:00pm, at 571 Stokeswood Ave in East Atlanta Village.