By Carlen Ruth Hultgren
East Atlanta Village Farmers Market (EAVFM) opens for business again on Thursday, March 25. Area neighbors and visitors are welcome from 4:00pm to 7:00pm at the market, located at 572 Stokeswood Avenue. Capacity will be limited, masks will be required, handwashing encouraged, and social distancing practiced for the safety of all.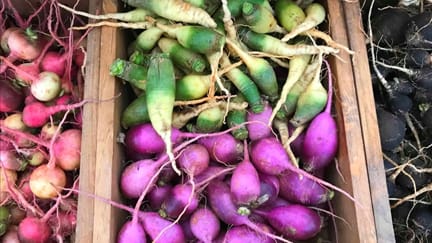 In addition to this year's lineup of vendors listed below, EAVFM will celebrate Earth Day by hosting a Plant 2 Plate event with Love is Love Farm. Led by Wholesome Wave Georgia and Food Well Alliance, Georgia Plant 2 Plate provides households on SNAP with 50% off local fruit and vegetable plants plus free gardening kits to grow fresh food at home.
The East Atlanta Village Farmers Market is one of Atlanta's oldest farmers markets, providing seasonal produce since 2006. Featuring vendors, artisans, and farmers who grow and create locally, it's been providing staples and goods to the EAV community for over a decade. Whether you're looking for organic produce, prepared foods, or artisan goods like soaps and jewelry, EAVFM is a great way to support local businesses.
The market is located in the park across from the Midway Pub on Flat Shoals Avenue, with parking and additional access at 572 Stokeswood Avenue on Thursdays from 4:00pm to 7:00pm. In addition to vendor stalls, there are special events such as cooking demonstrations, as well as ample room to sit and relax. There is also an on-site Edible Learning Garden that offers garden education and children's activities.
EAV 2021 vendors will include weekly appearances from: CFM General Store (with granola, coffee, pasta, BBQ sauce and more from CFM vendors); Green Cleaning Co; Cosmos Farm; Panola Mountain Farms; Aleppo Kitchen; Buenos Dias Cafe/LaBodega; Proof Bakeshop; Georgia Peach Truck; Georgia Proud Provisions; Cultured South; and Honey Next Door. Additional vendors will include: King of Pops; Yom Ice Cream; Renewal Farm; SUJO Farms, Inc.; Under the Canopy Native Plants; Food and Flora Sovereignty; South Indigo Co.; Nisha's Flavors of India; Breezy Kakes; Southern Crust Bakery; It Element, LLC; Pachamama Products and Designs; Astronut; Stay Golden/Candace Rogue LLC; Fiber Parts; HelenaKai; Second Century CBD; Vibrational Living LLC; Ree Ree Dee's Dough; VTasteCakes LLC; Madame Gypsy's Co.; Val's Kale Chips; and Lady Locavores at Home (see below for additional details).
As an additional feature, Lady Locavores at Home is a four-part series of one- hour webinars to celebrate International Women's Day, led by some of our very own talented Lady Locavores. There will be a tea ceremony, cocktail mixing class, cooking class, and flower arranging demo. (While some of the events will have passed by print date, others may still be available.) Each online session will run from 7:30pm to 8:30pm. Registration is available at Eventbrite (www.eventbrite.com).