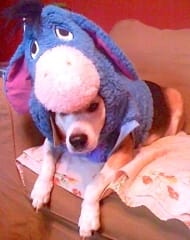 By Morieka Johnson
East Atlanta residents and business owners have joined forces to launch a fall festival that celebrates dogs, while raising money for local pet charities. Dogtoberfest 2013 in East Atlanta Village (EAV) will feature a dog costume contest, food, music, and a parade of adoptable dogs. All proceeds from the Oct. 20 event will benefit Southern Animal Rescue and Lifeline Animal Project. Residents Lauren Janis, Morieka Johnson, and Mary Yetter brainstormed the idea for Dogtoberfest over dinner in East Atlanta, then recruited friends and local business owners to help turn the idea into reality.
"East Atlanta Village is such a pet-friendly community, and we wanted to create a fun event that promotes education and rescue organizations that support our community," said Janis, whose company Big Daddy Biscuits will serve as signature sponsor for the event. "I am so proud to launch Dogtoberfest. We plan to make it an EAV tradition for years to come."
Pet owners can check out dog yoga along with educational resources such as an Ask the Trainer booth as well as adoptable pets from local rescues. Dogtoberfest will also provide tools to help prospective dog owners find a four-legged companion that complements their lifestyle. Family-friendly vendors and activities will be on site from noon until 4:00pm at 561 Flat Shoals Avenue, the space typically occupied by the EAV Farmers Market.
"Our goal is to promote responsible pet ownership while paying it forward for pets," said Johnson, editor of SoulPup.com, a website for new dog owners. "Lifeline and Southern Animal Rescue have a rich history of helping pets in need and we are happy to support their hard work in the community."
For more information, visit the event's Facebook page,
Dogtoberfest in EAV 2013
.