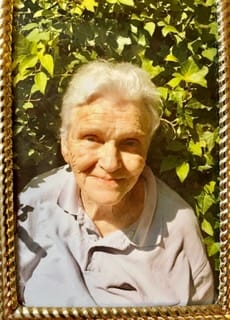 By Henry Bryant
When she passed last spring, Mary Ann Hightower still lived on Bouldercrest Drive, near the house where she was born. Her birth home still stands on Smith Street on the site where it was built on the farm property with a Bouldercrest address. The land was developed and sold off long ago. Early on, Mary Ann met the neighborhood boy from across the street, Bob Hightower. Bob and his siblings became playmates with Mary Ann and her siblings. The Hightower property stretched between Bouldercrest and Fayetteville Roads and back to Flat Shoals Road, taking up the largest part of East Atlanta's fishtail on a map. It includes all of the land where East Atlanta High School and Gartha Peterson Elementary stand, plus some. The Hightower's farmhouse is also still standing on Bouldercrest beside Mary Dell Drive.
When Bob and Mary Ann grew up, they married and she did not go far. While in East Atlanta she attended Gordon Elementary (on Metropolitan), then Murphy Junior High School (on Memorial Drive at East Side Avenue before the neighborhood was divided by 1-20), before going on to Girls High (now The Roosevelt Apartments in Grant Park). After that, she went on to Tift College in Forsyth where the athletic young woman achieved a degree in Physical Education. She remained "sporty" throughout her life, even giving younger women and her children competition in formal and informal team sports.
When she and Bob were wed, they thought nothing of inviting Mary Ann's school friend Evelyn and her new husband, Charles Smith, on their honeymoon to Florida. Evelyn and Charles, like Mary Ann and Bob, were in the dairy business and lived off Bouldercrest but further out near the Old Atlanta Prison Farm.
Bob eventually built his new wife a brick ranch style home on Hightower land near the corner of Bouldercrest and Mary Dell. That little street was named for Mary Ann and her sister-in-law, Dell. Mary Ann's father had grown up in the Floyd home on Metropolitan Avenue. The Floyd brothers had moved their large cabinet workshop from Edgewood Avenue to the burgeoning East Atlanta Business District located on Flat Shoals Avenue near Glenwood Avenue (behind Grant Central and the other storefronts there). The large workshop was bounded by Brownwood, Stokeswood, and Portland Avenues and an alley behind the stores. The woodworking talents of the family could be found in banks, offices, and upscale homes across the city of Atlanta.
After a while, Mary Ann and her husband moved to a larger house across the road that had belonged to one of the Williams brothers. The Williamses, another leading East Atlanta family, became ubiquitous for their lumber and concrete business as the city grew. In the 1960s, the neighborhood was changing, with many of the old families moving away. Mary Ann stayed in East Atlanta, even after her beloved Bob passed. She was a modest religious woman who quietly lived by the golden rule. She always had time to be a mentor, friend, and confidant to those around her. She treated everyone well and had a good word for all. Her church for most of her life was in the neighborhood, first at Moreland Avenue Baptist (now First Iconium) and then at Martha Brown Methodist (now Eastside Church). I first met her working the fundraising tables for Martha Brown at the East Atlanta Strut. She was an invaluable living resource for the history photo book that Katina VanCronkhite and I wrote and assembled. My favorite memory of her was her leading us through neck-high brush as we blazed a trail to find the old paper mill ruins off Bouldercrest. Until fairly recently, you might see her tooling around the village in her car on various errands. She died of natural causes on March 2 and was buried in Atlanta's Westview Cemetery on March 10 beside her husband. She leaves behind two daughters and several grandchildren and greatgrands. Daughter Amy and grandson Ethan live in East Atlanta.
If you would like to hear Mary Ann's story in her own voice, here is a link to a recent podcast: www.archiveatlantapodcast.com/e/oral-history-mary-ann-floyd-hightower.