By Ryan Downey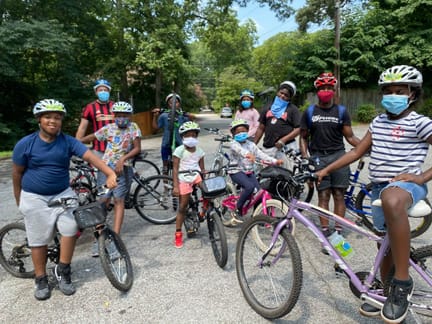 2020 was a year of firsts for East Atlanta Kids Club (EAKC). The out-of-school-time program operating at the Brownwood Recreation Center has served local kids, teens, and families under Founding Executive Director and community champion, Jill Sieder's leadership since 1998.
Among the firsts of 2020, was hiring a new Executive Director, Ryan Downey, in February 2020 from a national workforce development nonprofit, Year Up. The timing of that hire, and the first transition of leadership for EAKC, lined up with the onset of the COVID-19 pandemic, and the Kids Club immediately changed course to meet increased community need against this backdrop of economic uncertainty.
Since March 20, 2020, EAKC has run weekly food distributions, with the support of generous local donors and volunteers. To date, EAKC has put 103,000+ pounds of quality food into the community (86,000+ meals and $258,000+ of food support for households in need). As a partner agency of the Atlanta Community Food Bank, this is achieved for pennies on the dollar in a sustainable weekly format.
Beyond food support, EAKC has also returned to limited in-person after school for deserving youth, and perhaps more critically, has been offering no-cost, in-person learning pods for youth from Burgess-Peterson Academy and Kindezi Old Fourth Ward since early November. These offerings are keeping at-risk youth on track academically while also providing a place for play and social-emotional learning support.
In 2021, EAKC will continue to provide food support, after-school learning pods, and STEAM-based summer camp. The organization is particularly excited about upcoming coding curricula (designed by East Atlanta neighbor Uthra Ramaswamy) and a new partnership with Atlanta Youth Rugby that will keep the kids active and healthy. For more information about how you can get involved as a donor, sponsor, volunteer, or participant, please contact Ryan Downey at rdowney@eastatlantakids.org.