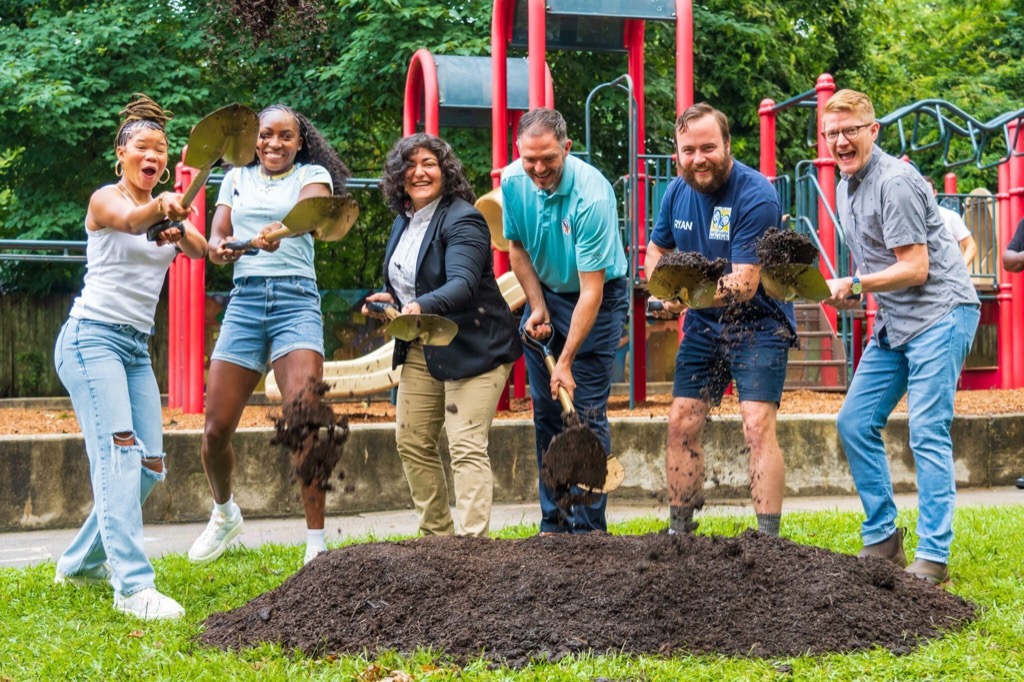 By Chase Miller
On Saturday, July 22, members of the East Atlanta community came together to break ground on future improvements to Brownwood Park. Many city and community leaders were in attendance, but the key spotlights were on guest celebrities (with Atlanta roots) Actress Storm Reid and Tennis player Coco Gauff. Both have been instrumental in securing funding and support for a complete revamp and update to the playground area and tennis courts at Brownwood Park, projects which are expected to be completed in early 2024.
The day kicked off with a few words of welcome by Justin Cutler, Commissioner of Parks & Recreation who then handed the mic to Councilmember Liliana Bakhtiari. Bakhtiari thanked the various community groups and individuals who have made so many efforts to bring improvements to the park including the East Atlanta Kids Club, (EAKC) the East Atlanta Community Association (EACA), the East Atlanta Parents Network (EAPN), and EACA's Friends of Brownwood Park. She then introduced Reid and Gauff who talked about their childhood experiences in Atlanta; the importance of supporting today's kids with resources, love, and support; the role that parks play in the growth and development of our kids; and their commitment to giving back to Atlanta. Rounding out the program was Ryan Downey, Executive Director of the East Atlanta Kids Club who talked about the impact these improvements will also have on the hendreds of kids who participate in their after-school programming and summer camp, services provided at no-cost to the community's kids.
If you missed the groundbreaking ceremony, you could watch a recording of the opening program on the EACA Instagram page @eaca1980. If you'd like to get involved in efforts to improve and revamp Brownwood Park, please consider joining EACA's Friends of Brownwood Park group; email parks@eaca.net to get involved. Lastly, if you'd like to support the work of the East Atlanta Kids Club, you can donate by visiting their website eastatlantakids.org.
"The most important thing about doing this is the community behind it…when we invest in the youth, it will change the world, one person at a time." – Coco Gauff