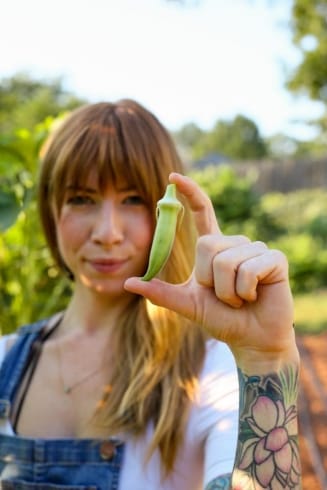 By Bang Tran
Every week at East Atlanta Village Farmers Market (EAVFM), our resident educational chef, Carolynn Ladd from A Date with Figs, cooks up simple, quick snacks and meals using local ingredients sourced from the farmers and vendors at the EAVFM market chef demonstrations.
Carolynn graduated from culinary school in 2009, worked in Atlanta restaurants, owned and operated a small bakery, and is now a private chef. Each week, she visits the farmers market to help shoppers figure out simple ways to cook the seasonal, fresh foods available. Carolynn specializes in vegetarian and vegan cuisine, with a focus on whole body health. Her recipes are thoughtfully crafted in a way that keeps families' budget, time, and well-being in mind. If you've ever wondered how to cook something, are looking for new ideas for ingredients you're familiar with, or even want to chat about Reiki and Ayurvedic principles in cooking, Carolynn is the person to talk to.
Some of her recipes have included herbed carrot dip, peach and pesto sandwiches, maple glazed carrots, and more. Chef demos are free every Thursday from 4:00pm to 8:00pm at the EAVFM at 572 Stokeswood Avenue in East Atlanta.