By Riki Bolster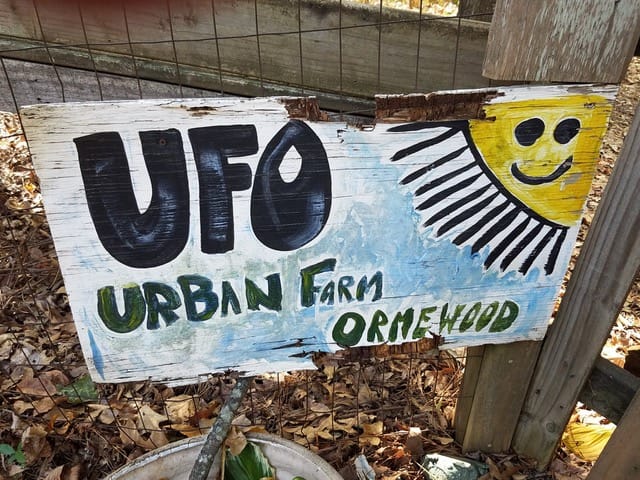 The sign reads UFO. However, there is nothing alien or barren about the rolling green hills, tilled gardens, blueberry bushes, tree swing, and walking paths of Red's Farm. Its smiling owner, "Red," born Brian Charles Harrison in 1968, opened his Urban Farm Ormewood as a community greenspace, and welcomed the use of his property by strangers and friends. Red died on October 7 of a massive heart attack.
He leaves a legacy of an open space tucked amid residential Ormewood Park where nature rules. "The space you had gave our family nature and peace at times when we needed it, and fun and adventure when the kids were younger. It has been a little sanctuary for which I'm grateful," wrote one resident in the memory book at his impromptu memorial table, made of recycled wood like much of the benches and tables scattered throughout the green space.
Red's farm was the scene of many community activities: annual Easter egg hunts, potluck picnics, story-reading times during Covid, blueberry-picking events, a mid-July farmstand selling vegetables, red potatoes, and shrub drinks, rare winter sledding, Christmas tree bonfires, organized barbecues, scout trips.
"One of my enduring memories of Red's farm," wrote Sylvia Davis, another resident, "is watching my son and his Cub Scout packmates climbing all over the antique Farmall [tractor] that sits in the center of the land. I don't know who had the bigger grin – the kids or Red. My son is an adult now but he and so many other young people have fond memories of Red. His generosity of spirit and joy in nature live on through them."
Red delighted in the artistic and creative. "He was a tinkerer," Susie Aquino, Red's sister, said. That included picking up carpentry skills, often by trial and error. She recalled how at age two he nailed his blocks to the stairs in his home. Later, he tried to saw off the bricks jutting out from the walls of their home in Illinois, to even them out.
Born in Seattle, Red's family moved to Illinois, and then to Stone Mountain. "He was very independent very early," Aquino explained. Red started working at about age 14. He began as a dishwasher in a local Italian restaurant on Memorial Drive, then salad prep, kitchen assistant and cook, working in many of the restaurants in Little Five Points.
He graduated early from high school by attending Open Campus so he could work while in school. He earned an associate degree from DeKalb Community College and almost completed a ceramics degree from Georgia State.
Red's creativity came out in other ways – his interest in antiques and land. He chauffeured his prom date in the "Big Blue Batmobile," the 1960 Cadillac he bought at age 16. A pinball machine, another early purchase, is still in his house.
Red bought his first house at age 18 (in East Point), then another. Later in the 1990s in Ormewood, Red first bought the lot that includes his house, then as other pieces of land became available, he bought those contiguous to his original property, slowly creating about six acres of open land.
It was through a conversation with an artist whose work he admired that Red found the first farmer for his land in 2006. Kenneth Lovell, now age 80, spent two hours talking with Red, showing him picture books of his gardens. "In New England we plant fence to fence, getting as many vegetables in as we can," Mr. Lovell said. "Five grandchildren have eaten off of this garden for years," gesturing across long rows of well-tested and cultivated soil. Other growers joined Mr. Lovell so now a swath of Red's land is indeed an urban farm. Zoning it an urban farm also helped lower the increasing tax burden. "We gotta keep this little Garden of Eden in the middle of this big city. Let's protect it. It's a treasure," Lovell insisted.
Other large areas remain uncultivated and offer pathways for meditative walks, especially during the years of COVID. A rubber tire swing hung from one of the large oaks on the land was a favorite place to take out-of-town visitors with kids.
The notice of his death to the Ormewood Park community was met with an outpouring of responses. Joey Sisson posted, "He was one of the most cheerful and respected people in our community. His legacy will forever be a staple in Ormewood Park and surrounding neighborhoods."Lovell said, "He was easygoing, very compassionate, always had a smile. Red had a good heart," echoing the assessment of many others.
The family is a bit shell-shocked at Red's unexpected death, Susie Aquino acknowledged, and will need to take time to figure out what will happen in the future. "His family very much admires the passion Red had for creating the green space and sharing it with the community."