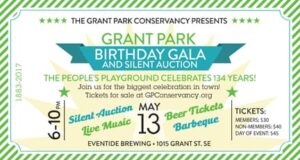 By Becky Godsey
You're familiar with Grant Park. You drive by it, walk through it, visit the farmer's market on Sundays, pack picnics for you and your family, and enjoy the tennis and basketball courts. You may even hit up a little league game or two on the weekends, and certainly you've checked in at one of the many wonderful in-town festivals that take place in Atlanta's oldest park.
But did you know this beloved greenspace, also known as The People's Playground, is about to turn 134 years old? What better way to celebrate than with a birthday party?
On May 13, The Grant Park Conservancy will throw a good old-fashioned backyard barbecue. There will be a silent auction, live music from Yes Ma'am, and great local brews. Auction items include everything from jewelry to a pair of Nest thermostats and even a piece of history from a former Grant Park "resident" – the Cyclorama.
Plus, all proceeds go to The Grant Park Conservancy and directly contribute to keeping Grant Park a beautiful and enjoyable place for everyone.
The event will take place at Eventide Brewery on May 13 from 6:00pm to 10:00pm. Advance purchase tickets are $30 for Conservancy members, $40 for nonmembers, and can be purchased at www.GPConservancy.org. Party-goers also can buy tickets at the door for $45.