By Angie Wynne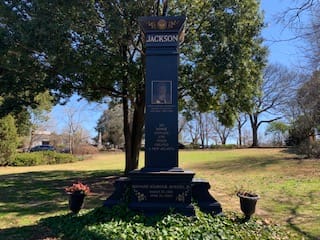 Juneteenth National Independence Day, observed on June 19, is a federal holiday that commemorates the end of enslavement in the United States. Celebrate Juneteenth at Oakland Cemetery with two weeks of free programs open and available to the public, June 18 through June 30. Learn more about these programs at www.oaklandcemetery.com.
Storytime with LaDoris Bias-Davis: June 18. In partnership with GEEARS: The Georgia Early Education Alliance for Ready Students, Historic Oakland Foundation is taking part in the Mayor's Summer Reading Club! Join storyteller LaDoris Bias-Davis for a reading of Atlanta, My Home, a surprise activity, and a mini-tour to explore the sights and symbols of Oakland Cemetery! This hour-long program is perfect for children ages 3-5. Registered kids will receive a free copy of Atlanta, My Home. To ensure that each child receives a book, we're limiting the program to 25 children. Advanced registration is required.
We Shall Overcome Walking Tour: June 19, June 21, June 23, June 26, and June 30. "We Shall Overcome" became the anthem of the Civil Rights Movement of the 1960s, but the origin of the song dates back to antebellum days and a spiritual sung by enslaved people, "No More Auction Block for Me." This tour explores the lives and accomplishments of outstanding and ordinary African Americans who fought to overcome the effects of slavery and discrimination to help shape the history of Atlanta. Reservation required.
Black Magnolias Guided Walking Tour: June 19, June 21, and June 26. This guided walking tour explores the history, lives, and labors of Atlanta's African American women. Reservation required.
Storytelling Hour: June 22 and June 28. Join storyteller Deborah Strahorn for an hour of interactive tales and music at Oakland. Recommended for ages 5-12. Meet in North Public Grounds. Picnic blankets are encouraged! No registration required.
Picnic in the Park: June 25. Join us for a morning of free, self-guided family fun at Oakland Cemetery! We'll be at Oakland's main gate passing out activity bags full of coloring books, art supplies, mini-scavenger hunts, and other fun to participating families (one per family; while supplies last. Explore Oakland and find a shady spot to create art. We'll also be handing out sweet cold treats, but we encourage families to pack a picnic—just like the Victorians—for their visit to Oakland. No reservations required.
Oakland's Juneteenth celebration is part of the Civic Season, a nationwide initiative encouraging civic participation through a two-week activation between Juneteenth and July 4th. Juneteenth reminds us of the immense hurdles in our ongoing journey to form a "more perfect union." July 4th commemorates the moment a new nation was born, based on ideals that each generation since has worked to bring to life: freedom, equality, justice, and opportunity. Civic Season mobilizes us to connect with the past, take action in the present, and shape the future, through activities and events in our neighborhoods, cities, towns, and social spaces. The future is up to us.