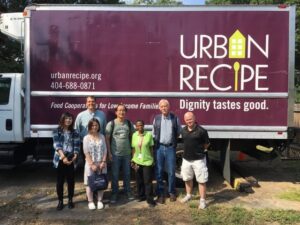 By Barbara Antonoplos
On April 23 local nonprofit Urban Recipe will hold their inaugural Tummy & Soul event at Mason Fine Art, 415 Plasters Avenue, Atlanta, GA 30324. This year's event will honor founder, long-time director and Grant Park resident, Chad Hale, as he approaches retirement, in addition to celebrating 25 years of helping provide food security with dignity to low-income families through member-run food cooperatives. The event will be held from 4:00 to 7:00 pm. Enjoy an evening of food, music, and art, and support the good work of Urban Recipe.
Atlanta photographer, Jonathon Kelso is creating a photo series of co-op members, which will be on display and available for purchase. Jonathon's work has been featured in prominent publications such as the New York Times, Atlanta Magazine, Bloomberg Businessweek, and Creative Loafing. Also on display will be a small set of paintings by folk artist Constance Hawkins (1962-2003), a lifetime resident of Grant Park and member of Urban Recipe.
Urban Recipe was born out of the community ministry of Georgia Avenue Church, which has occupied the red brick building at the corner of Georgia Avenue and Grant Street in Grant Park since 1981. Still headquartered in that building, Urban Recipe is now an independent 501(c)(3) organization. There are various facets to Urban Recipe's work, including a noon lunch on Wednesdays, open to anyone; however, for the past 25 years Urban Recipe's primary focus has been the development of food cooperatives for low-income families. Having launched the first co-op in 1991 with 13 member-families, during the past 25 years Urban Recipe has had up to 7 food co-ops operating simultaneously–with each co-op of 50 member-families meeting every two weeks, year round.
The bulk of the food that is distributed comes from the Atlanta Community Food Bank, which has been a staunch supporter of Urban Recipe from the start. Produce is purchased at cost from the Atlanta State Farmers Market, and additional food is donated to Urban Recipe by local gardeners and farmers markets, restaurants, and stores like Kroger and Target.
Because the co-ops meet regularly, they also provide opportunities for education and empowerment as the members' gifts and talents are nurtured and utilized within an ongoing, supportive community. Over the years, Urban Recipe has partnered with a variety of local entities for educational and self-development initiatives, including Morehouse School of Medicine, Sevananda Natural Foods Market, Interfaith Power & Light and Atlanta Legal Aid Society, among others.
Urban Recipe has held numerous training sessions on how to duplicate their particular food co-op model, with participants from across the U.S., and has consulted with organizations based in Canada, Turkey, England, Japan, Hong Kong and the Philippines regarding establishing similar programs there.
All proceeds from Tummy & Soul will go to fund the work of Urban Recipe, with special donations being used to launch the Chad Hale Legacy Fund as a way of continuing to honor the expansive vision and long-term dedication of Chad Hale. In June, 2016, Chad shifted his role in the organization, making way for new Executive Director, Jeremy Lewis, who brings wonderful new expertise and energy to the work.
Tickets may be purchased online at www.urbanrecipe.org/tummyandsoul. For questions, email John Hale at johnhale@urbanrecipe.com, or call the office at 404-688-0871. Find out more about Urban Recipe at www.urbanrecipe.org, facebook.com/urbanrecipeatl and on Instagram @urbanrecipe.