By Carlen Ruth Hultgren
This spring, the Burgess-Peterson Academy (BPA) will plant 700 square feet of raised beds in its school courtyard garden this spring. While volunteers have planted and harvested beds for several seasons, this year there's a better reason for student, neighbors, and their kids to get their hands in the dirt, as the harvest will be donated to the weekly East Atlanta Kids Club (EAKC) food distribution. Volunteers are needed to help prepare, plant, and care for the garden on Friday mornings throughout this spring and summer.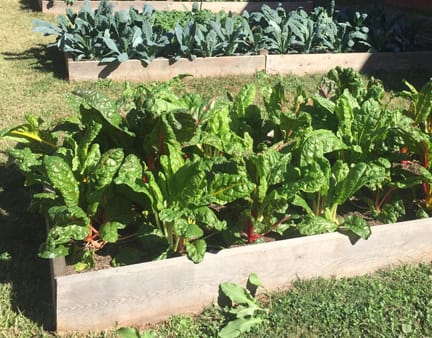 The project will begin at 9:00am, Friday April 9, at the school, located at 480 Clifton Street at the corner of Glenwood Avenue. Volunteers will prepare the beds for planting, and on the following Friday, April 15, fill them with seeds and seedlings. Volunteers will also be needed to maintain the garden and harvest it each Friday, the day EAKC distributes to the community. Volunteers do not need gardening expertise, and all color thumbs welcome. Masks will be required and the projects will be managed for social distancing.
The BPA garden will also accept donations of summer vegetable seedlings. Email bpagarden@gmail.com for more information. Cash donations can also be made via the East Atlanta Community Association at EACA.net. Please include a note that your donation is for the BPA garden.
The garden was started in 2008 as a learning tool for teachers and students. Over the years, harvests have provided hundreds of pounds of vegetables to students and their families, teachers, and staff. In partnering with the EAKC, it will provide food for local children and their families during these times of extreme food insecurity.
The East Atlanta Kids Club, which operates out of the Brownwood Park Recreational Center, quickly adapted to the pandemic by distributing thousands of pounds of food to the community. To donate or find out more about the Kids Club, go to www.eastatlantakids.org.