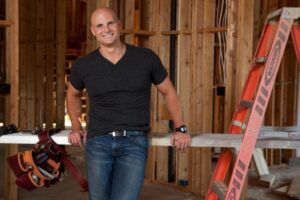 By Cher Hain
Atlanta's own celebrity designer and expert craftsman, Chip Wade, will join local Do it Yourself home decorators to repurpose items from the Atlanta Habitat ReStore in the Reynoldstown neighborhood from 2:00pm to 3:00pm on Thursday, November 1.
Several local DIYer's have been invited to transform items from the ReStore into furniture and home décor that would complement America's ultimate family holiday: Thanksgiving. Wade, host, designer, and executive producer on his Emmy Award Winning series Elbow Room, will showcase the DIYer's design transformations. He will also offer advice and tips to shoppers on refreshing a space with items from the Atlanta Habitat ReStore any time of year.
"The Atlanta Habitat ReStore is a treasure chest of cool finds. I can't wait to see what our DIY experts come up with," says Wade, who is a big fan of Habitat for Humanity. The Chip Wade DIY workshop is free and open to the public at the Atlanta Habitat ReStore located at 271 Chester Avenue SE, Atlanta 30316. Guests can register at www.atlantahabitat.org/workshop.
The Atlanta Habitat Restore sells new and gently-used furniture, home accessories, building materials, and appliances at a fraction of the retail price. Thanks to donations received from across Atlanta, its inventory changes daily. Net proceeds help to fund Atlanta Habitat's mission. Each time someone donates, shops or volunteers at the ReStore, its net proceeds support the construction and renovation of affordable homes, critical home repairs for seniors and military veterans, and neighborhood revitalization. Learn more at www.atlantahabitat.org/restore.