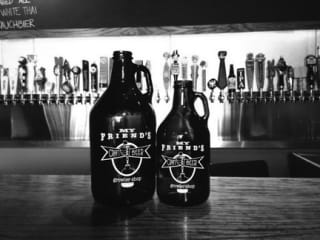 By Rebekah Goode-Peoples
Boulevard Heights residents recently opened My Friend's Growler Shop (MFGS), the first exclusive craft beer store within the city limits, at 415 Memorial Drive, Suite B. Longtime friends Camric Shultz and Hunter Kent started scouting their location in East Atlanta two years ago because they "have love for this whole area of the city," said Shultz.
Though there were many challenges to opening in that location, Shultz and Kent persevered where many other beer shops gave up only to open in the suburbs. "The amount of red tape made it nearly impossible to do something over here, so we started looking at other areas. But we just didn't get that community feel that we were looking for anywhere else," said Shultz. "We didn't want to be lost in a shopping center somewhere. We wanted to be part of something. We decided it was worth the fight."
The space itself shows the owners' firm commitment to the growler concept. While the shop carries a small bottle selection and specialty glassware, the focal point of the space is a long wall of taps. "We are big fans of the growler concept because of the quality of the beer that you get and the price of it. For us, growler beer should always be cheaper than what you get in the bottle. It's cost-effective on our side, so we just pass that on to the consumer," said Shultz.
According to Kent, the quality of growler beer is significantly better because it hasn't been pasteurized and bottled. "Instead of drinking a 6-to-7-month-old beer, it is totally fresh, like it was brewed that day." In addition to offering a glass of beer just like a brewmaster tastes, growlers are environmentally friendly because using them cuts down on glass waste.
Shultz and Kent are passionate about selling brews from local breweries, including Wild Heaven, Monday Night Brewing, and Grant Park's own Eventide. "We try to have at least one brew in here, at least, from every local brewery at all times," said Shultz. "It supports the growth of startup breweries because they don't have to invest in bottling."
On occasion, MFGS even carries brews that can't be bought elsewhere, like Monday Night Brewing's Tie Two On, a small batch anniversary beer. "The only way to enjoy certain brews in your home is by getting it here," said Kent.
There are two growler sizes, a small 32-ounce bottle, which holds two or three glasses of beer, and a large 64-ounce bottle, which holds five or six glasses of beer. The prices range from $3.99 for a local brew to $12.99 for top of the line Belgian brews. For more information, visit
www.myfriendsgrowlershop.com
.