By Riki Bolster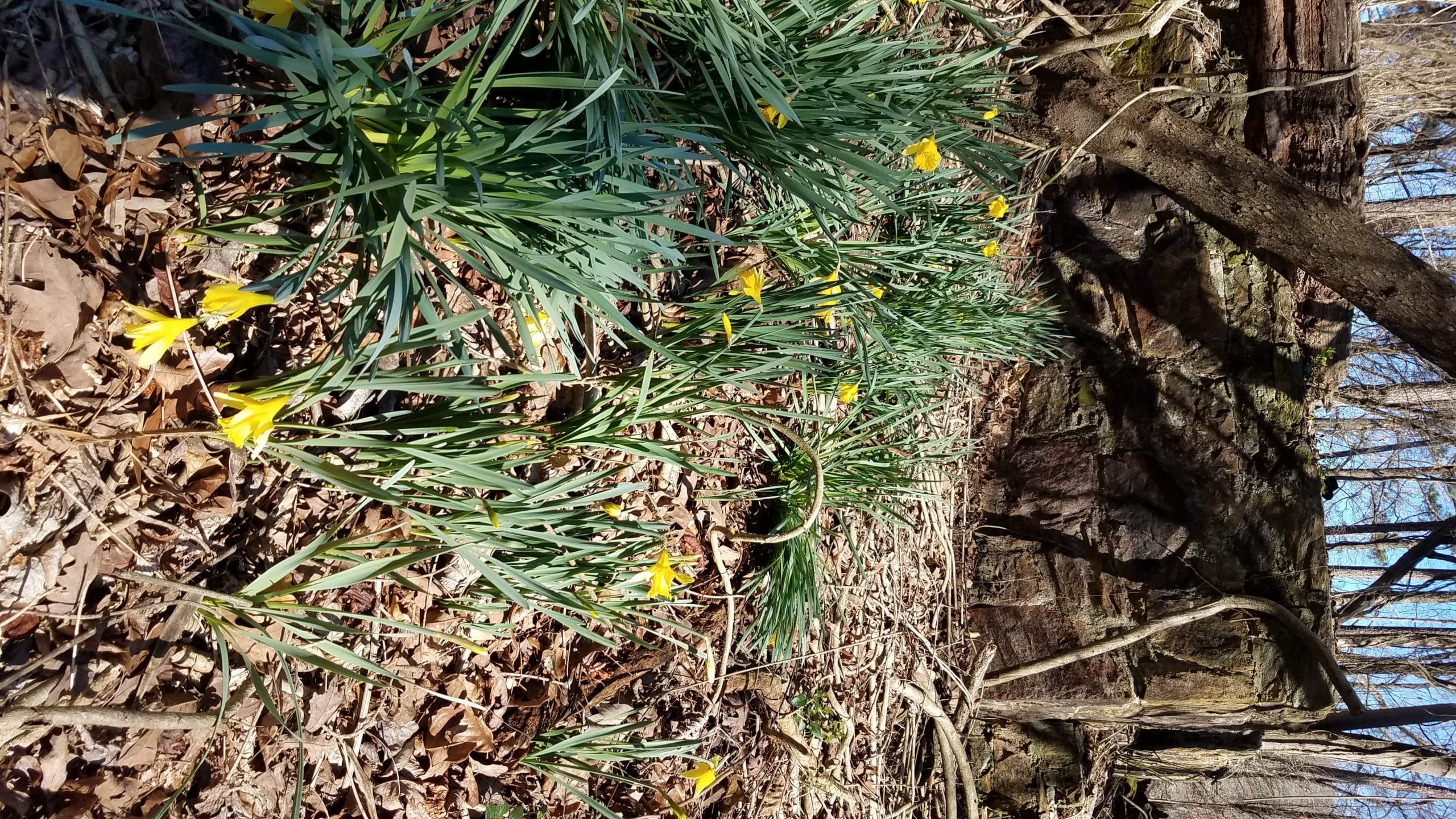 Tucked behind the tractor trailer depots of EcoLogistics, Fed Ex, and Southeastern, we found the hiking trails of the Lake Charlotte Nature Preserve. Only one other car was pulled off the road, some Pennsylvanian, who declared his/her love for ice hockey with ZAMBONY blazoned on the license plate. During the two hours we explored the tranquil oak-hickory forest, we did not encounter said hockey enthusiast.
We followed an easy undulating trail for about half a mile to a divergence of paths. We took the road less graveled. That led us in view of the truck depots, but also clumps of blooming daffodils, not wild but planted by some former owner, and what must have been a foundation for a house. Stone walls and stairs, twisted vines, a stone chimney. We wondered, who lived here? More stone walls. Was this once a community of homes? A tributary stream of the South River wended its way northward.
Returning to the divergence we took the other road which led us to a cleared out spot on a pleasant rise. At the top of the rise we saw evidence of new tree plantings, but also seven 12-foot long iron pipes strewn across the hill. The beginnings or endings of a dream house?
The woods were quiet and peaceful – no loud music, no sirens, no shouted neighbor arguments. However, we could not totally evade the evidence of other humanity. This plot of 216 acres (larger than Piedmont Park) with an unbroken canopy of mature trees (white oak, shag bark hickory, black oak and American beech) is carved into the triangle of Moreland Avenue and I-285. So planes flying overhead and traffic noises occasionally did interrupt our walk in the woods.
The looming mountain of the capped Live Oak landfill nearby hinted at the rescue effort necessary to create this nature preserve. One of the largest greenspace acquisitions in Atlanta's history, this property once boasted lakeside estates in the early 1900s, was designated a preserve in 1977, only to slip through the hands of several owners. The lake was drained in 1982 and the property was in danger of becoming an industrial park or another landfill.
Lake Charlotte's fascinating history includes Charlotte Sage (a wealthy Ansley Park deb), Dr. R. F. Ingram, Ted Mastroianni (city's parks and rec department), the Atlanta child murders, Herman Lischkoff, Waste Management Inc., South River Gardens neighborhood, and the Conservation Fund. For a great read of Lake Charlotte's history, go to SouthernCultures.org for an article by Hannah Palmer.
Tim Keane, Atlanta Planning Commissioner (until February 18) proudly notes the city used funds charged to developers removing trees to purchase the Lake Charlotte property. And now Ryan Gravel and the Nature Conservancy see the preserve as the linchpin in their dream of the South River Forest (3500 acres of interconnected green spaces in DeKalb County).
Visit the Lake Charlotte Nature Preserve at 3018 Forrest Park Road SE, Atlanta, Georgia 30354.