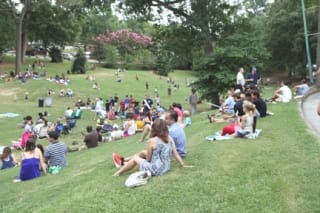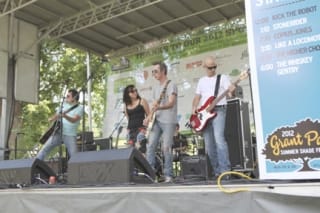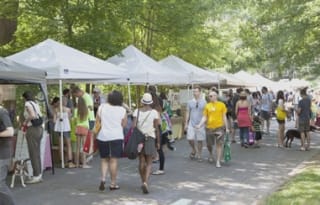 By Carrie Whitney
You won't want to miss the 11th Annual Grant Park Summer Shade Festival! This year's festival takes place on Saturday, August 24 from 10:00am to 10:00pm and Sunday, August 25 from 11:00am to 7:30pm.
This FREE annual tradition is held at the end of each summer to celebrate Atlanta's oldest public park by welcoming visitors to an outdoor weekend festival featuring a diverse artist's market, live music from acclaimed performers, fun activities for children, and plenty to eat and drink. The Summer Shade Festival is more than just fun; it also supports the Grant Park Conservancy, the organization responsible for maintaining 131.5 acres of amazing public green space.
The festival kicks off with the Adams Realtors 5K Run for the Park on Saturday morning at 8:00am (registration opens at 7:00am). This is always a great way to explore the neighborhood on foot. Following the run, Summer Shade opens at 10:00am with a huge artist's arket spread throughout the park featuring more than a hundred artists working in all types of media from jewelry to pottery and from painting to wearable art. Many returning and new artists will be in attendance. The craft and fine art is accompanied by live music on two stages featuring a wide variety of genres that can be enjoyed in comfort from a shaded, grassy hill. Throughout the festival, you'll find lots of food and beverage choices, and families won't want to miss the Kids Zone, sponsored by District 1 Atlanta City Council Member Carla Smith, filled with activities and entertainment for the younger set.
New this year is the Go Grant Park at the Pavilion. This area will showcase organizations, attractions, and businesses from Grant Park and neighboring areas. Look here for demos, activities, and performances that display some the uniqueness of this in-town neighborhood. Another new feature for 2013 is a bike valet hosted by the Atlanta Bike Coalition, so that visitors can go green and ride to the festival. There is no need to look for an empty bike rack; just valet and come back with your ticket when you are ready to head home.
Sunday at the Grant Park Summer Shade Festival opens with the Grant Park Farmers Market beginning at 9:30am at the Milledge Fountain area off Cherokee Avenue. The festival opens at 11:00am and keeps the party going all day with more art, music, food, and fun for all ages.
More information is always available at
www.summershadefestival.org
. Don't forget – attendance is free!