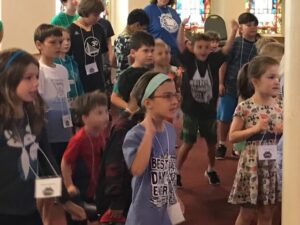 By Rachel Quartarone
Summer will be here soon, and St. Paul is ready! First, some church news: Pastor Ellen Hopkins who has faithfully served St. Paul for six years will be retiring on May 20. The church is extremely thankful for her service and all wish her a happy retirement.
"Ellen is a Grant Park resident, so we look forward to still seeing her and her family in our community as she enjoys her retirement and gets to spend more time being a grandmother," said Bill Ericson, St. Paul Church Council Chair.
In June, Rev. Cassie Rapko will join St. Paul as the new senior pastor. Stay tuned for more details and opportunities to meet her this summer.
To kick off the summer, children can join St. Paul for a "Rolling River Rampage" Vacation Bible School. VBS 2018 will be Monday, June 4 through Friday, June 8 from 9:00am to 12:00pm. St. Paul VBS is for children 3 years old (preschool and toilet-trained) through 5th grade. Days will be busy with faith-filled fun as the kids experience crafts, music, mission, science, and Bible story time.
The cost is $25 for one child/$40 per family with more than one child. Aftercare is available through Camp SPARC. You can register as either half-day VBS only or as a full-day Camp SPARC camper. All are welcome! You do not need to be a St. Paul member or even a regular attendee to participate.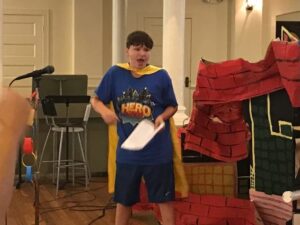 After taking a break last year, St. Paul is excited to offer Camp SPARC this summer for kids ages 6-12 years. St. Paul Recreation Director, Natalie Dunn, is heading up the camps with Naida Lopez serving as Camp Director.
"I am very excited and honored to be in a position to bring a fresh perspective to Camp SPARC this year," said Ms. Lopez. "I look forward to celebrating all levels of diversity and challenging our campers to embrace themselves, which encompasses the core of the Southeast Atlanta community."
There are six weeks of camp programming scheduled with activities ranging from cooking to kickball. Each week features a sports theme and an arts theme. The first week, June 4-8, will coincide with St. Paul's Vacation Bible School and offer mornings with faith-based activities. Most weeks have no religious programming and are focused on simply staying active and having a good time. Each camp also offers swim time at the Grant Park Pool.
Camp hours are 9:00am to 5:00pm with extended care available for an additional fee. The registration fee is $250 per week. For a full list of dates and activities, and to register, visit www.stpaulrec.com.
St. Paul offers two worship services each Sunday at 8:45am and 11:00am. To stay up to date on programs and activities, please visit www.stpaulgrantpark.org or follow the Grant Park UMC on Facebook