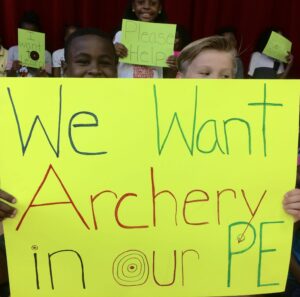 By Marie Mower
What's the chance an elementary school can teach Junior Olympic Archery to students? It could happen if Burgess-Peterson Academy (BPA) is able to purchase the needed equipment to offer a National Archery in the Schools Program (NASP). If implemented, all students in the fourth and fifth grades could then participate when archery becomes a sport in the PE curriculum approved in Georgia. The core content of the program covers archery history, safety, technique, equipment, mental concentration, and self-improvement. Archery in the physical education program is rated one of the safest scholastic sports and gives all students a sense of accomplishment, no matter their athletic prowess. According to the NASP website, teachers report it improves focus, concentration, and grades.
The National Archery in the Schools Program was launched in Kentucky in 2002 and because of neighbor state interest, became a national program soon after, starting in grades 4 through 12. The program's focus is to provide Junior Olympic Archery Development (JOAD)-style target archery training in K-12 physical education classes. The course is designed to be at or above national curriculum standards and must be taught in school during the day as a part of the school curriculum. This assures that archery is offered to all students. There is a competitive component as well, with regional, state, national, and international tournaments with divisions for elementary, middle, and high schools.
BPA is located in East Atlanta and serves 468 students. Currently, there is an online fundraiser for parents and community to make donations so that the school may purchase the required equipment. The goal is to reach $3,800 by November, 2017. Find the "We Want Archery in our PE Curriculum" fundraiser at www.razoo.com/kf1xe or mail donations to BPA at 480 Clifton Street, Atlanta, GA 30316.
For more information about NASP, visit www.naspschools.org and for those interested in starting NASP in another school with the help from the Georgia Department of National Resources, visit www.gadnr.org and type in NASP in the search box.