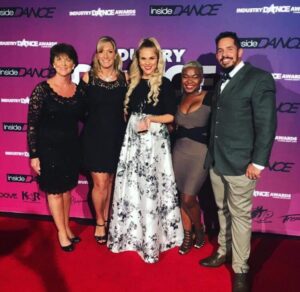 By Jean Hallman
East Atlanta's own Kids Dance 411's Competition & Performance Company recently won another top award. This time the award was for best jazz performance in the industry. Kids Dance 411's Ring the Alarm was one of nine nominees for Best Jazz Performance and was presented The Star Award at the Industry Dance Awards & Cancer Benefit Show. The event was held on August 16, at the legendary Avalon Theater in downtown Hollywood, California. This year's celebration showcased many memorable performances and highlighted the diverse achievements of industry leaders and innovators.
Accepting the award for Dance 411 were co-owners Ed and Sindy Schneider, Company Director JJ Crampton, and choreographer Brooke Bowe. "Our kids are absolutely amazing. We have kids who are literally homeless, off the streets and we just want to give them the opportunity to dance," said Brooke Bowe, Jazz Performance Choreographer.
To learn more about the Kids Dance 411 Competition & Performance Company or to donate, visit KidsDance411.com. Visit the website for additional information on Kids Dance 411 and opportunities at the studio, including the Fall Progressive Program. Registration is now open for this program. More information is also available by calling the studio at 404-622-4110, or email Info@Dance411.com.