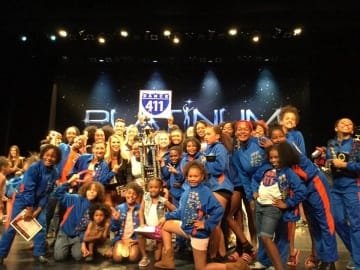 By Jean Hallman
The Dance 411 Performance Company recently won the Power Platinum Award in Daytona, Florida, at the Platinum National Dance Competition. The company rounded out its season at the end of May, winning the highest honor of the competition.
The group of young dancers kicked off their season in April at the International Dance Challenge (IDC) held in Birmingham, Alabama. The competition included 14 regional dance studios. Awards won by Kids Dance 411 included Best Entertainment Showdown, Judges Choice, and Overall High Score in the Junior and Senior categories. The kids also took home Best Choreography and were awarded the most student scholarships to the IDC Dance Intensive in Chicago.
At the end of April, the company competed at the highly competitive Hall of Fame Dance Challenge in Atlanta. Dance 411 Kids had 14 entries place in the top 5 from more than 900 entries. In mid-May, the company traveled to Chattanooga for the Applause Talent Challenge. Dance 411 took the top four spots, and the judges also recognized Dance 411 Studios for Top Dance Studio.
"I became involved with the Dance 411 Performance Company when my 4-year-old daughter started taking ballet and hip-hop lessons," said Elise VanderMeer. "All of this would be impossible without Dance 411 supporters who attend our events, local business sponsorships, and the friends and family who cheer on these amazing kids. Many dancers have already found employment in the entertainment industry and have launched small careers as a direct result of the mentoring they received at Dance 411."
The Dance 411 Company has performed on national television commercials, music videos, tours, films, and more. Auditions for the company are held throughout the year, and Dance 411 encourages every child and teen dancer, aged 5 to 19 to audition.
Atlanta choreographer Jeremy Green has partnered with Dance 411 and created the Behind the Movement Benefit Showcase and Dance Intensives to raise money for company members who cannot afford their training.
Kids Dance 411 also will host an open house in August for its weekly school year dance training program. Registration is now open for this progressive program.
You can learn more and register for these programs at KidsDance411.com. More information is available by calling the studio at 404-622-4110, or by email at Info@Dance411.com.