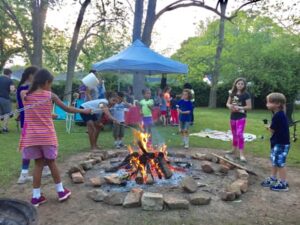 By Howard Fore
Camping in the backyard is a time-honored summer tradition. But what about camping in someone else's backyard? In East Atlanta, the historic Zuber-Jarrell House was the campground on Saturday, April 22 for more than 50 East Atlanta residents of all ages, as they cooked over a campfire, played games, and met new friends from the community.
Campers feasted on traditional camp-out fare, including hot dogs, corn on the cob, and s'mores, all cooked over a roaring fire. As night fell, less traditional children's games emerged using glow-in-the-dark sticks. Although the day had been clear, by sunset clouds had set in, preventing any stargazing or constellation spotting.
This was the third year that the East Atlanta Community Association (EACA) has held a community campout. Also, this was the first year it was held as part of the National Wildlife Federation's annual Great American Backyard Campout. "The National Wildlife Federation has their campout in July, but we felt that it was too hot in the middle of the summer for a campout in Atlanta," explained event organizer Jeanne Fore. "Last year we had to move the event from the summer because of storms. But the fall is full of weekend activities, too. This year, we decided that Earth Day was the perfect weekend to have it."
This is the second year that the event has been at the Zuber-Jarrell House. The historic mansion, located on Flat Shoals Avenue, was built in 1906 and is listed on the National Register of Historic Places. The house has an expansive back yard, which easily held the 11 campsites for the event attendees that stayed overnight.
"We're very thankful for the generosity of Jenny Murray and Marc Dobiecki for the use of their backyard," Fore said of the home's owners. "We're very fortunate that they've made their space available to us."